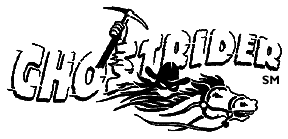 Knott's Berry Farm is one of the oldest theme parks in America. The Old West Ghost Town has always been one of the most historical areas of the park. Over the years, great new rides, like the Timber Mountain Log Ride and Old Calico Mine Ride have been added to the Ghost Town. But in 1998, the park, now under the ownership of Cedar Fair, decided to add something different. They set out to open the wildest and top wooden coaster in Southern California.
And boy did they succeed.
.............
Ghostrider is located near the front of the park, in Ghost Town. The beautiful structure towers over Grand Avenue, the parking lot, and the Knott's shopping area.
You walk through the calico-themed boarding house, up a flight of stairs, and through some switchbacks. Once you've passed all that, you board the ride in one of three 28-passenger "mine cars", each equipped with comfortable lap bars and seat belts.
Your restraints are checked, and pretty soon you heading down into a right-hand turnaround, which leads to the 118ft lift. If you look to your left, you can see the far out turnaround. Perilous Plunge and Supreme Scream are visible to your right.
After the climb, you start to head over the peak, and are soon yanked down the incredible 51 degree, 108ft drop - out of your seat the whole way down. Soon, you are speeding through a banked left hand turn at 56mph. Next comes an airtime filled bunny hop, which leads into the first turnaround. Once again you are flung down a drop into another right hand turn, and up into the second turnaround.
This is where the block brakes are located, but thankfully, Knott's does not use them as trims.
From this point, the ride is ready to kick into full gear.
After the block brakes, you head down the drop. It is referred to as the drop due to the incredible air it provides. But after the drop, it is all about laterals.
Next comes a banked left hand turn which leads into a small bunny hop, and up into the third turnaround. From here, you head over two airtime filled bunny hops, and into the double helix. The final helix is filled with tons of laterals, and doesn't stop getting faster and faster. Finally, you head up onto the final brake run, and back into the station.
Now that is a wooden coaster.
.............
Ghostrider is an incredible roller coaster; arguably the best wooden coaster in the world. It features incredible airtime and lateral g's, and provides an experience you will not forget. If you have not yet experienced Ghostrider, you are definitely missing out. Big time.
Rating: 10/10
Pros:
Tons of Airtime

High Lateral Gs

Helix
Enclosure Over The First Drop