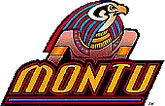 Following the success of Kumba, Busch Gardens Tampa contracted Bolliger & Mabillard once again when it was time for a thrilling new roller coaster.
Montu debuted in 1996, becoming the world's tallest and longest inverted coaster. The ride towers 150-feet in the air and features a 128-feet drop which accelerates riders to 60 mph. The 3,983-foot layout features seven inversions including the first ever Batwing and Immelman to be used on an inverted coaster.
............

Montu begins with a right-hand turn, which takes you over a family of crocodiles and leads you to the 150-foot lift hill. Once you reach the apex of the lift, you make your way over a small dip, and begin soaring down an amazing 128-foot twisting drop. From the bottom of the drop, the train - now flying at speeds of 60 mph - enters the first of seven inversions, a 104-foot vertical loop.

Coming out of the loop, the train passes through a small tunnel before navigating an Immelman, a disorienting inversion named after an airplane maneuver invented by a German Pilot in WWI. Next up, you travel through a zero-g roll, which is definitely one of the ride's best elements.
After the zero-g roll, the train navigates a long stretch before entering the Batwing. The Batwing takes riders through a half-corkscrew to the left, sends them diving down into a trench, and then back up into another half-corkscrew to the left, leaving them facing the opposite direction that they entered.

Following the Batwing, the train climbs up onto the mid-course brake run, which severely slows the train. From here, the train dives down a right-hand twisting drop before entering a half-buried vertical loop. Coming out of the loop, riders navigate a helix, which is followed by another quick turn.
Next up, the train dives into another trench before entering the seventh and final inversion, a corkscrew. Following the corkscrew, the train travels through a final right-hand turn into the brake run.
............
Montu is a wonderfully designed coaster with an excellent layout and a wide array of elements. Furthermore, the ride is enhanced by well-placed trenches and extensive themeing.
But unfortunately, the ride's pacing has been ruined by the recent addition of excessively-used trim brakes. Many of the elements have become slow and boring, and the forces have been greatly diminished.
It is very unfortunate to see the ride running in this state. Before the trims were added, Montu was consistently regarded as one of the top inverted coasters in existence. But without the intensity and great pacing it once offered, the ride falls short of B&M's other creations.
Rating: 7/10
Pros:
Fun layout with wide array of elements
Well-placed trenches
Excellent themeing
Cons:
Poor pacing and lack of intensity caused by excessive braking
-Josh Baker