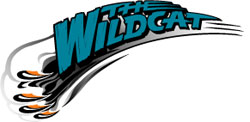 Hersheypark took a gamble when they contacted Great Coasters International to design and construct Wildcat, a wooden coaster designed to resemble the classic wooden twisters of the 1920's. At the time, Great Coasters International, headed by Mike Boodley & Clair Hain, was a 'newbie' in the coaster designing business.
Standing at a mere 90-feet tall with an 85ft drop and a top speed of 48mph, Wildcat, which is named after the park's first roller coaster, may not seem to impressive at first. But those thoughts are dismissed when you are able to get a real glimpse of the ride's twisted structure, which features a total of eleven sharp turns and crosses over and through its structure twenty times. Wildcat is also filled with several camelbacks, which is combination with the twists, is designed provide an interesting mix between positive, lateral and negative Gs.
Wildcat is tucked in the corner of Midway America, an area of Hersheypark filled with the sights and sounds of a classic 20's amusement park. Midway America is also home to several other popular attractions, including Lightning Racer -- a giant racing/dueling wooden twister (another creation from GCI).
.............
Upon entering Wildcat's queue for the first time, I was able to get a perspective of how twisted this ride really is. It is very impressive that that much track can fit in such a compact footprint.
Before long, I reached the ride's station and as usual, headed for the back. The ride's trains are manufactured by PTC and are equipped with individual ratcheting lap bars and headrests.
Soon enough, our restraints were checked and we began to make our way towards the lift-hill.
The ride up provides a great view of Midway America and its several attractions; but this view does not last for long. We soon reached the apex of the lift, and in an instant we were flying down Wildcat's twisted first drop.
The 85-foot first drop twists 180 degrees to the right and is heavily banked. Coming down there are high positive Gs, adding to the intensity. Although it may seem tame compared to other larger wooden coasters, Wildcat still has one of the best first drops in its class.
From the bottom of the drop, you head back up into a banked left-hand turnaround, which is immediately followed by another drop, also twisting to the lift.
Next up, you soar over the ride's first camelback, which provides plenty of airtime. From here, the train travels through several more banked turns, crossing over and under itself multiple times, until reaching the second camelback. You then head through a few more banked turns and another camelback until finally reaching the brake run.
.............
Wildcat was a major success for both Hersheypark and Great Coasters International - which is now a very respectable coaster designer.
Without a doubt, the ride is one of the best wooden twisters in existence. It combines a good amount of airtime with high positive and lateral Gs to create a near-perfect mix, resulting in a very enjoyable and re-rideable coaster.
Personally, I find Wildcat to be very under-rated. The ride packs a huge punch in a compact layout - something not usually seen on modern wooden coasters. With that in mind, if you are traveling to Pennsylvania anytime soon, be sure not to miss out on this amazing wooden twister.
High G-Forces (Lateral and Positive)

Intense

Airtime
-Matthew Bohle